"As each has received a gift, use it to serve one another, as good stewards of God's varied grace." – 1 Peter 4:10 (ESV)
RJ and Jordan Fontana have been houseparents at Baptist Children's Home (BCH), Owasso for the past eight months. They serve in the girls' cottage on campus and live there with their two children, Carson and Carlee. They moved from Florida specifically to serve with Oklahoma Baptist Homes for Children (OBHC).
The Fontanas have been houseparents for five years. RJ is a few classes away from his bachelor's degree in psychology and Jordan went to school for medical assisting.
The couple discovered OBHC when they applied for a similar position through another Baptist children's home. There were not any positions available at the Baptist children's home where they applied, but the human resources director of the children's home emailed them information to get in touch with OBHC's Vice President of Programs, Malcolm Philips. "Once we began speaking with Malcolm Philips and Teri Blanton, the transition from Florida to here was a breeze," said Jordan.
The Fontana's ministry is never the same any day. Whether it is RJ working with the boys' cottage on projects around campus or Jordan taking kids to appointments, picking up medications, grocery shopping, etc., each day is different.
"While we are on duty, we wake up at 6 a.m. and our day ends around 10 p.m., so our days are long," said RJ. "We follow a strict hour-by-hour schedule to help us with maintaining structure in the home. We can have up to eight residents in our home. The responsibility of this many kids may scare people, but what we've seen when we have a full house is it makes our routine flow better. We work a two weeks on/one week off schedule. During our time off we are diligent in spending that one-on-one time with our kids, Carson and Carlee."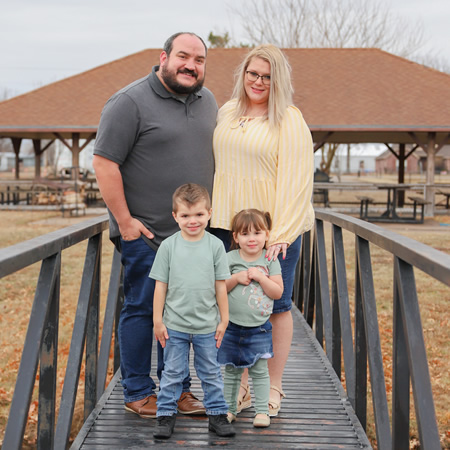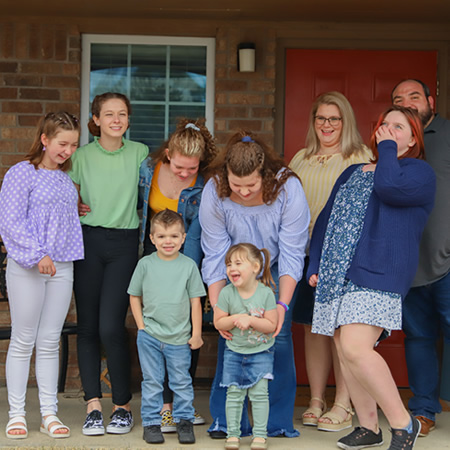 Because "the mission of Oklahoma Baptist Homes for Children is to demonstrate God's love by providing hope through empowering children and their families to follow Christ," the Fontanas appreciate the opportunity and freedom to talk about their faith with the girls in their cottage.
"At our past jobs, we didn't have the freedom to share the love of Jesus to the residents we serve," said RJ. "With OBHC using the family cottage model, we are like a big family. We have devotions, we go to church, we do activities, we do life together. Sometimes the kids we serve have never seen what a healthy family unit looks like."
For the Fontanas, the life transformation is one of the best things about being a houseparent. "Seeing kids get saved and baptized, families being restored, teaching the residents new ways to cope with anger, co-parenting with families and walking alongside them are just a few of the blessings of being a houseparent," said RJ. "Our biggest challenge is dealing with different personalities of the kids we serve. We are a big, blended family all raised in a different way trying to get along under one household. Our heart is to restore and to reunify families."
To anyone considering serving as a houseparent, RJ encourages them to first seek the Lord. "Be in prayer, seek counsel. This is not a job; this is a ministry. The need is great, but the laborers are few. Once you've sought the Lord, take a leap of faith and apply! We have a brand-new super cottage being built on the Owasso campus, and it's slated to be open in the spring! So be in prayer, because we have a need for three houseparent couples to come alongside and serve kids in need," he said.